Home of Whispering Winds Wholistic Animal Sanctuary
Phone: (951) 674-0921 / Fax (951) 674-9998
MANX, POLYDACTYL, & POLY-MANX
KITTENS FOR SALE
All manx, bob-tailed, part-tailed, polydactyl, and polydactyl manx country cats are holistically raised. No chemicals or processed feeds are utilized. All cats are kept naturally healthy with natural species appropriate nutrition, outdoor sunshine, exercise, natural worming with food grade diatomaceous earth and quality care.
We do NOT ship any animals, so please do not ask. All must be picked up from us at Wolf Creek Ranch in southern California.
Please be sure to read our requirements for those wanting to purchase kittens from us on our Manx Cats web page.
The following manx, polydactyl, and poly manx kittens are sold. The youngest kitten photos were 6 weeks of age. The two older kittens are 12 weeks.
The following are female kittens: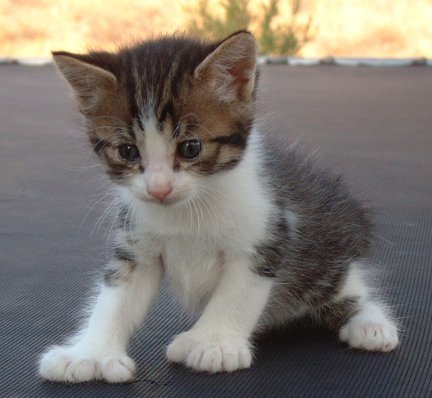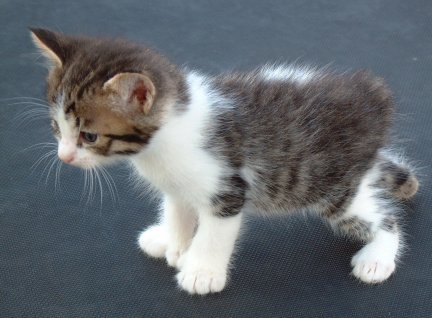 This girl has 8 toes on each front paw, 5 toes on each back paw, and a cotton tail. See her cotton tail? :o) ~ SOLD ~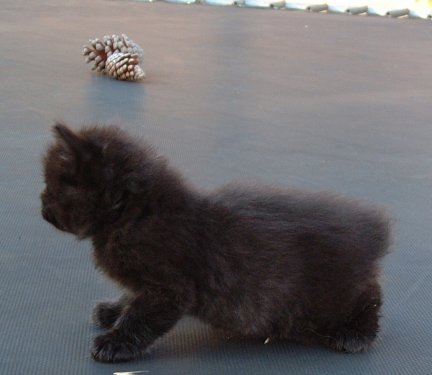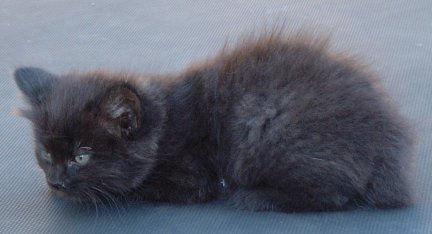 This is a normal toed fluffy furred, very social, purring machine, black manx female. Just a 1" bob-tail. ~ SOLD ~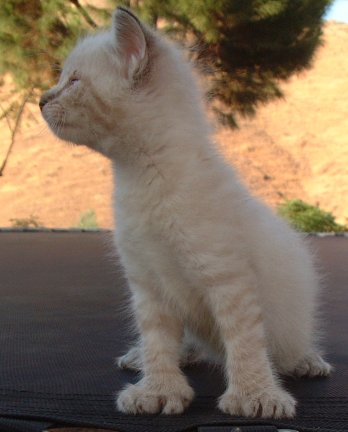 This is an ice blue eyed Siamese Poly Manx female 6 toes on each front paw, 5 toes on each back paw, and a cotton tail. ~ SOLD ~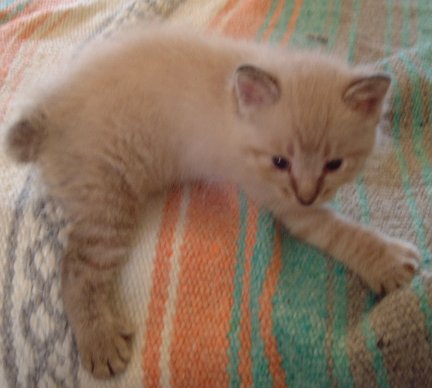 This is the siamese girl above (photo taken at 4 weeks of age). ~ SOLD ~
This is a very social 12 week old black female poly. She has 5 toes on all 4 paws. - SOLD -
The following male kittens are sold: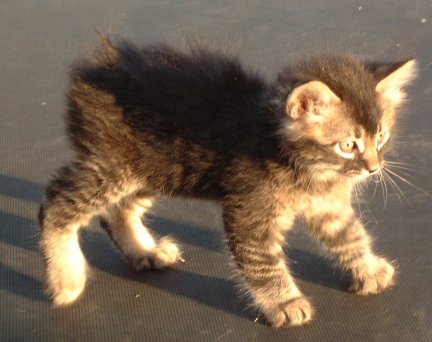 This is a fluffy furred brown tabby poly manx (no tail) male. He has 5 toes on each front paw & 4 toes on his back paws. - SOLD -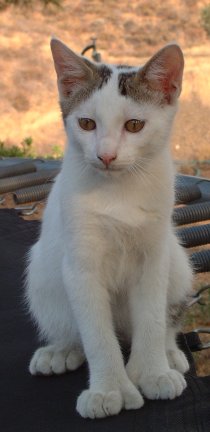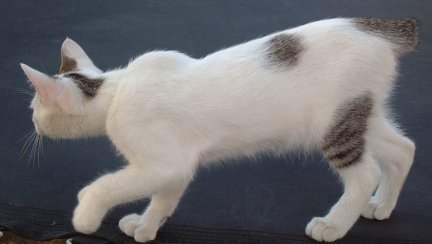 This is a very social, purr mobile, 12 week old white with tabby, poly (5 toes each paw), bobtailed male kitten. ~ SOLD ~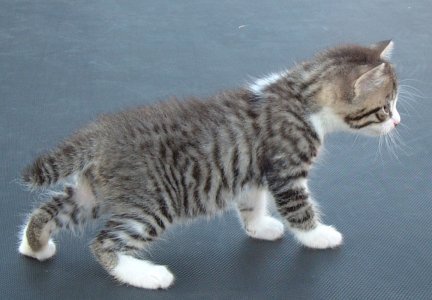 This is a 6 week young 1/2 tailed male kitten. ~ SOLD ~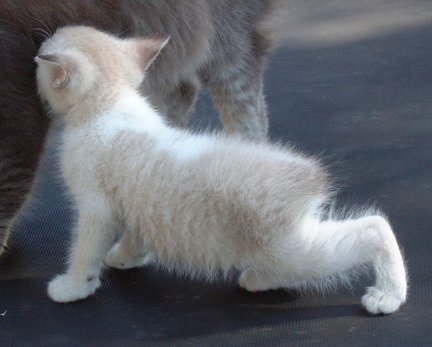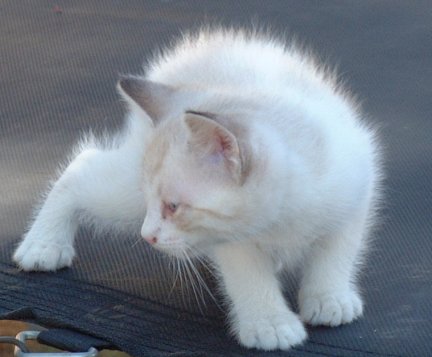 This is a 7 week young Siamese, normal toed, manx male with ice blue eyes. ~ SOLD ~
This site is dedicated to all animals and their guardians. Whether you are here to find information and links to research holistic methods or just browsing, please feel free to linger as long as you wish.
HOLISTIC MANX & POLYDACTYL CATS & KITTENS
---

CLICK HERE TO SEE ALL WHOLISTIC PRODUCTS
---
Please use our drop down menus below OR scroll down for a listing of natural products and natural health information.

HOLISTIC PRODUCTS
PET PARAPHERNALIA
HOLISTIC HEALTH INFORMATION
WOLF CREEK RANCH INFO
PRODUCT, SERVICE & INFORMATION DISCLAIMER
The information on this web site is not intended as a substitute for the advice of a physician or vet. This information is not intended as a substitute for the reader's independent judgment and personal responsibility. Health issues are far too important to delegate to anyone else. It is highly recommended you research and seek information and counsel from as wide a variety of sources as possible, so you can make well informed educated decisions about you, your child's, or your pet's health, as in the end YOU make the decisions.
The information on this Web site is designed for educational purposes only. It is not intended to be a substitute for informed medical advice or care. You should not use this information to diagnose or treat any health problems or illnesses without consulting your vet, pediatrician or family doctor. Please consult a physician or veterinarian with any questions or concerns you might have regarding your, your child's, or your pet's health condition.
The Dietary Supplement Health & Education Act (DSHEA) of 1994 requires us to state: "These statements have not been evaluated by the Food and Drug Administration. These products are not intended to diagnose, treat, cure, or prevent any disease."
Food Grade Diatomaceous Earth is not EPA registered to be used as a pesticide in the state of California or Texas. We can ship to California, but we just need to inform you it does not have an EPA approved label. We cannot ship Food Grade Diatomaceous Earth to Texas.
Amber Technology's Herbal Nutraceuticals for Pets Products are not registered with the state of Texas; therefore, we cannot ship these products to Texas.
CLICK HERE TO SEE OUR FULL DISCLAIMER
---
All Information and Photos © Copyright 2001 to Present, Wolf Creek Ranch and may not be used without express written permission from Wolf Creek Ranch.