Home of Whispering Winds Wholistic Animal Sanctuary
Phone: (951) 674-0921 / Fax (951) 674-9998
PET ESSENTIALS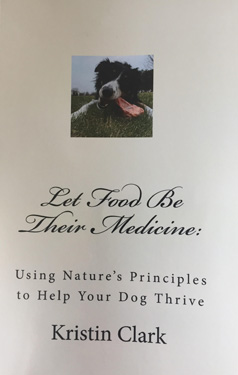 "LET FOOD BE THEIR MEDICINE: NATURE'S PRINCIPLE'S TO HELP YOUR DOG THRIVE
Let Food Be Their Medicine: Nature's Principle's to Help Your Dog Thrive ~ More and more dog owners around the world are supporting their dog's wellness and vitality by feeding them a species-appropriate raw food diet. By feeding their dogs what they have evolved to need, they are helping to support them so they can thrive. Let Food Be Their Medicine: Using Nature's Principles to Help Your Dog Thrive describes how to get started feeding your dog a species-appropriate raw food diet, the logistics and nuances of feeding this way, common fears about feeding a species-appropriate raw food diet, detoxing and the healing response, fasting, and more. By taking the mystery out of feeding a "raw" diet, this book helps you feel confident about how to feed your dog so they can live their optimal life. Using a clear, engaging style, and solid, easy-to-understand information, Kristin Clark takes the guesswork out of raw feeding so you can focus on what's really important: enjoying your beloved dog.
Kristin Clark is certified by the American Council of Animal Naturopathy as a Carnivore Nutrition Consultant and Small Animal Naturopath. She is the founder and Editor-in-Chief of Raw Pet Digest, an international online magazine devoted to natural feeding and health care for dogs and cats. Through her company Canine Health Promotion, Kristin offers species-appropriate food products, natural modalities, and consulting services to dog owners, to help support them in promoting and maintaining the health of their dogs. Kristin also speaks regularly on topics related to natural pet health promotion.
LET FOOD BE THEIR MEDICINE ~ $16.50 ~ First Class Mail (3-9 Business days) >

---
CLICKER TRAINER
This versatile target stick designed by trainer Terry Ryan now manufactured under the Karen Pryor Clicker Training name.
The Clik Stik is an all-in-one clicker and retractable target stick -- perfect for trick and target training! The Clik Stik combination frees up one of the trainer's hands. Includes a belt clip for easy carrying, this wonderful tool is useful when teaching targeting, contacts and weave poles, send-aways or go-outs, heeling, and lots more. Target
extends from 6-23 inches.
CLIK STIK CLICKER TRAINING AID ~ $14.95

---
Here are links to many of pet essential items we use here at Wolf Creek Ranch. Stainless steel food and water bowls, collars, leashes, toys, crates, grooming tools, cat trees, etc.:
Feeding and watering supplies. Stainless bowls (never use plastic or aluminum):
Organic Pet Foods:
I have thought for a long time about selling "organic pet food", but honestly, cannot bring myself to recommend feeding our best canine and feline friends such a diet. Cats are true carnivores and dogs are carnivores with teeth designed for ripping and tearing at meat. More information about feeding species appropriate nutrition is here: Animal Nutrition.
Organic Treats:
Here again, dry treats aren't optimum for our canines and felines. At the very least, cooked deboned chicken, hamburger patties, left over steak, pork chops, or similar from your dinner last night are optimum treats for our carnivorous companions.
Toys, Toys and More Toys!
Please note, most of these toys are meant for supervised use. Some wolves and dogs destroy toys instantly, others like to keep them intact. IF there is a concern your puppy, dog, or cat could swallow something harmful, please supervise play time with their toys:
Travel gear:

Crates, pens, and pads:

Required Training Equipment

Clickers, treat bags, books, DVD's...harnesses and leashes are in Travel Gear, treats are in the Pet Food/Treats, Tugs and Toy links are above:

Grooming Tools and Equipment:

Just for Cats and Kittens:

Pet Photography ~ to record precious memories for yourself and to share with family and friends:

For a good, non-diving, water proof camera when in the rain, at the beach, lake, pool, pond, etc., try Nikon's Coolpix. I like it as it is lightweight, easy enough for a child or grandchild to carry without harming, and it takes better photos than a cell phone, but not optimum photos like a DSLR. But when you're at the beach, pool, or in the rain, the DSLR needs to be waterproofed.


More Cameras ~ Pocket Digital Cameras to Digital SLR's:

The answers begin with the fact that the wild life are eating Species Appropriate Nutrition NOT krappy killer kibble in a bag. They are getting tons of daily healthy exercise running their tails off or flying their wings off daily to hunt down their species appropriate nutrition which helps keep their immune systems strong and HEALTHY! They are NOT chemically wormed, given toxic heartworm preventatives, flea preventatives, NSAID's, etc. In other words, their bodies aren't constantly being poisoned with traditional medicine (which lowers their immune systems), as traditional veterinarian's treat our beloved pets and animals. The ONLY thing driving the wild life to extinction in our opinion is "Man's Progress" - freeways, shopping centers, tract homes, hunters, etc. and the air and water pollution that results from this so-called progress.

Keep your animal companions naturally healthy and their lives will be healthier and longer lived "healthy" lives, not lives filled with dis-ease and early death. Research the effects of chemical wormers like ivermectin, pyrantel, etc. and find that more effective natural wormers like Food grade diatomaceous earth is an easy, natural method of worming. Toxic traditional flea and tick preventatives are more healthily replaced with all natural Flea Free Food Supplement or natural fly control Fly Free Food Supplement. The unhealthy effects of Animal Vaccines are causing dis-ease, including cancers, liver diseases, etc., just as unhealthy Human Vaccines are destroying our immune systems and compromising our health and healthful longevity.

This site is dedicated to all animals and their guardians. Whether you are here to find information and links to research holistic methods or just browsing, please feel free to linger as long as you wish.

There are many links here for you to research and gather information. We appreciate being notified about any holistic links you feel should be added to our site. It is our goal to provide as much holistic information to you, ourselves, and others. Thank YOU!
---
*These statements have not been evaluated by Food and Drug Administration. This product is not intended to diagnose, treat, cure or prevent any disease. The information on this Web site or in emails is designed for educational purposes only. The information on this web site is not intended as a substitute for the advice of a physician or veterinarian. This information is not intended as a substitute for the reader's independent judgment and personal responsibility. Health issues are far too important to delegate to anyone else. It is highly recommended you research and seek information and counsel from as wide a variety of sources as possible, so you can make well informed educated decisions about you, your child's, or your pet's health, as in the end YOU make the decisions.
---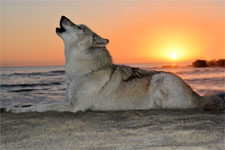 Give Us A Howl!
Please Click Here To Leave Us Your Testimonials, Reviews Or Website Feedback. Thank You!
---

CLICK HERE TO SEE ALL WHOLISTIC PRODUCTS
---
Please use our drop down menus below OR scroll down for a listing of natural products and natural health information.





PRODUCT, SERVICE & INFORMATION DISCLAIMER

The information on this web site is not intended as a substitute for the advice of a physician or vet. This information is not intended as a substitute for the reader's independent judgment and personal responsibility. Health issues are far too important to delegate to anyone else. It is highly recommended you research and seek information and counsel from as wide a variety of sources as possible, so you can make well informed educated decisions about you, your child's, or your pet's health, as in the end YOU make the decisions.

The information on this Web site is designed for educational purposes only. It is not intended to be a substitute for informed medical advice or care. You should not use this information to diagnose or treat any health problems or illnesses without consulting your vet, pediatrician or family doctor. Please consult a physician or veterinarian with any questions or concerns you might have regarding your, your child's, or your pet's health condition.

The Dietary Supplement Health & Education Act (DSHEA) of 1994 requires us to state: "These statements have not been evaluated by the Food and Drug Administration. These products are not intended to diagnose, treat, cure, or prevent any disease."

Food Grade Diatomaceous Earth is not EPA registered to be used as a pesticide. We cannot ship Food Grade DE to Texas. Any shipments made to California are made with the understanding that it will not be used as a pesticide.

Amber Technology's Herbal Nutraceuticals for Pets Products are not registered with the state of Texas; therefore, we cannot ship these products to Texas.

CLICK HERE TO SEE OUR FULL DISCLAIMER
---
Visit our new mobile friendly site Wolf Creek Ranch Organics

All Information and Photos © Copyright 2001 to Present, and may not be used without express written permission from Wolf Creek Ranch.
All Rights Reserved