Home of Whispering Winds Wholistic Animal Sanctuary
Phone: (951) 674-0921 / Fax (951) 674-9998
WOLF CREEK RANCH POLICIES
We have moved. In a few seconds you will be taken to our new website. If it does not redirect in 5 seconds, please click Wolf Creek Ranch Organics here. Please bookmark remember to update your bookmark.
Lady Almond says, "C'mon - Let's Play!!" =)
"No, Almond, it's time for work" Ahh, gee whiz...
As much as we would LOVE to play ALL day with our furry and feathered animal guardians, it's time to get down to business and answer your questions about our policies. Realize though, if NOT for the furry clowns up above, we would not be in this wonderful holistic health business. So as much as they love to play and goof off, they are a HUGE part of the reason we are here today and able to help others with their beloved pet health issues. Okay...so here's the nitty gritty:
LOCATION AND BUSINESS HOURS
Wolf Creek Ranch is located in Lake Elsinore, California. We are an hour drive from San Diego and an hour from Los Angeles.
Our business hours are: Monday through Friday 10:00am to 3:00pm PST. We are closed weekends and holidays.
Local customers who wish to pick-up orders from us must call to schedule an appointment; local pick is available only if you are ordering 50 lbs. or more of product, otherwise we refer you to our local retail stores. To find a retailer near you, click on of the following links: Herbal Retailers or Food Grade Diatomaceous Earth Retailers
ORDERING INFORMATION
You may order online on our secure server websites. If you prefer to pay via PayPal, shop at our https://wolfcreekranch1.tripod.com/wholisticproduct.html website or our new Wolf Creek Ranch Organics.com website.
Or our specialized websites take PayPal:
All Natural Horses.com
HeartWorm Free.com
Holistic Livestock.com
Kitten Distemper.com
Parvo Puppy.com
If you prefer to pay via Visa, MasterCard, Discover, or American Express please go to our http://www.wolfcreekranch.net website.
We do accept USPS Postal money orders and checks. Please call for information on how to place an order paid by check or money orders. (951) 674-0921
Or fax your order to us at (951) 674-9998.
E-CHECK PAYMENT INFORMATION
If you paid via E-Check (through your checking account), it usually takes 3 to 5 business days for your check to clear, so your order will not ship until your E-Check has cleared from your account to ours.
NSF CHECK PAYMENT INFORMATION
NSF Checks will be charged a $25.00 NSF Check Fee.
PRIVACY POLICY
Wolf Creek Ranch is committed to protecting your privacy while you shop our online stores. Your private information will never be disclosed, rented or sold to anyone and will be used strictly for business purposes only. All orders that are placed on our site are protected via our secure online server.
We will not send you unsolicited e-mails, telephone calls, or snail mails, unless related to your order you have placed with us.
RETURNS & EXCHANGES
We accept returns or exchanges on all non-herbal unused product, in its original packaging within 30 days of invoice. Due to the nature of the herbal products and the possibility/risk of contamination, we are unable to accept refunds or exchanges for any of the Amber Tech Herbal Nutraceuticals for Pets Products. We are sorry, but there are no exceptions! All shipping charges are non refundable. We do charge a 20% restocking fee.
Please call us for an RMA number to return your order. You may also contact us with any questions or concerns that you may have regarding your order. We will try to remedy any problems to the best of our ability. Your satisfaction is very important to us.
All returned/exchanged merchandise must be in original condition and must include, all accessories, packing material, inserts and pamphlets, and the box in which it was shipped in. Shipments of returns must be prepaid. We will not accept COD returns.
Approved refunds will be issued, less the original shipping cost and any credit card or PayPal processing fees, in the same manner they were paid for (i.e., a credit card credit will be issued to your credit card if you paid via credit card, etc.).
SHIPPING
Orders usually ship within 24 business hours, excluding weekends and holidays.
USPS & FED EX EXPRESS MAIL (Overnight) SHIPPING
If you ordered Express Mail or Fed Ex Express Overnight next day delivery, please make sure someone is at your shipping address to sign for the package when it arrives. Otherwise, please e-mail us and advise us to waive the signature requirement on overnight Express Mail packages.
IF you ordered overnight Express delivery and you have a parvo or distemper emergency, please e-mail us and let us know and we will e-mail an Emergency Tea Recipe you can use to keep your puppy or kitty hydrated until your order arrives.
USPS PRIORITY & FIRST CLASS MAIL ORDERS
IF you did NOT order overnight Express Mail delivery and your package weighs less than 50#'s, your order will ship via USPS Priority or First Class Mail and will take 2 to 5 business days to receive.
UPS & FED EX GROUND ORDERS
If your order weighs 50#'s or more, expect it to come via UPS Ground or Fed Ex Ground. These heavy orders will take from 3 to 10 business days to receive.
INTERNATIONAL ORDERS OUTSIDE THE UNITED STATES
We ship product to all countries around the globe daily. If you purchase product(s) from us, you are responsible for any and all customs or duty fees associated with your purchase. We do not pay customs or duty fees.
All International orders ship via USPS First Class Mail International (7 to 21 business days to receive), USPS Priority Mail International (7 to 10 business days to receive), or Express Mail International (5 business days) and is not "guaranteed". If you do not see the shipping option you want, please e-mail us and advise what you want to order and your complete address so we can give you a shipping quote.
International Buyers Please Note: Import duties, taxes, and charges are not included in the item price or shipping cost. These charges are the buyer's responsibility. Please check with your country's customs office to determine what these additional costs will be.
Please be aware of Customs Regulations in your country. IF your item is confiscated for any reason, we will not be responsible and will not be able to reimburse you or resend the item. If you are unsure what your country's compliance requirements are please go to this website:
http://pe.usps.gov/text/imm/immctry.htm
RECYCLABLE PACKING MATERIALS
We recycle all recyclable materials. This means, if we have a decent used box that your order will fit in, we will ship it in that box to save a tree. Some of our packing materials are shredded paper, packing peanuts, bubble wrap, etc. - making use of it a 2nd time, instead of throwing the paper away. Our planet is important to all of us! Keeping Mother Earth healthy is optimum for everyone.
TESTIMONIALS
We LOVE to receive testimonials and photographs of yourself and/or your furry or feathered animal companions. We appreciate your telephone calls advising of how well your pet is healing - this is WHY we sell these excellent natural products, because they REALLY work! If you have time to E-Mail Us with your testimonial and possibly a photograph of yourself or your companion (whichever one of you has been helped by these fabulous remedies), please do so.
As many of you know, the FDA (aka Fear & Death Administration) is trying to limit our access to natural supplements, even making some prescription, or banning their use altogether. Written customer testimonials help to prove our products actually work, even though they are not FDA approved. These products are not FDA approved because it costs $350,000.00 plus to get this approval for EACH and every product. This would then make the products a lot more expensive than they currently are. We are not able to use "telephone testimonials", as we must have "written" testimonials in order to put them up on our website. So, IF your time permits, please e-mail us your testimonials. We are working at getting up the testimonials we have on all of our products and would love to have your happy and healthy photos up there too.
If you have any questions, please feel free to e-mail us at the link below.
Again, we appreciate your business. Hope the New Year is beautiful, healthy, warm, and happy!
Hugs, Howls, Meows, Health, & Happiness,
Wolf Creek Ranch & Critters
Home of Whispering Winds Wholistic Animal Sanctuary
Wolf Creek Ranch Organics.Com
Wolf Creek Ranch
Wolf Creek Ranch.Net
Parvo Puppy.Com
Holistic Livestock.Com
HeartWorm Free.Com
Kitten Distemper.Com
All Natural Horses.Com
"The person who says it cannot be done should not interrupt the person doing it." - Old Chinese Proverb
"Don't dream a dream, live a dream and let reality sleep." - Enyo Johnson
Lady Mariah says, "Wow, that was a lot
to read, time to snooze!"
Experience, our beloved furry and feathered guardians, and research has taught us that traditional methods of feeding, worming, vaccinating, and medicating do not bring optimum health to ourselves or the animals. Thus, we utilize only natural healthy rearing and holistic treatment methods such as Species appropriate nutrition (SARF), natural, holistic, herbal, and homeopathic remedies, etc., along with plenty of exercise, sunshine, proper training, and tender loving care.
The products we carry are those we personally use amongst ourselves and our animals. We carry a variety of healthy, natural, and organic supplements and immune system boosters as well as holistic herbal remedies to help eliminate parvo virus, feline distemper, e-coli, coccidia, giardia, corona virus, kennel cough and upper respiratory infections, canine flu, urinary tract infections, heartworm infestations, ear infections/mites, vomiting, diarrhea and more. These natural people, pet, and plant health care remedies are extremely effective and work even when traditional medicine fails.
CLICK HERE TO SEE ALL WHOLISTIC PRODUCTS
---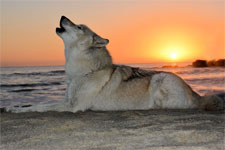 Give Us A Howl!
Please Click Here To Leave Us Your Testimonials, Reviews Or Website Feedback. Thank You!
---

CLICK HERE TO SEE ALL WHOLISTIC PRODUCTS
---
Please use our drop down menus below OR scroll down for a listing of natural products and natural health information.


PRODUCT, SERVICE & INFORMATION DISCLAIMER
The information on this web site is not intended as a substitute for the advice of a physician or vet. This information is not intended as a substitute for the reader's independent judgment and personal responsibility. Health issues are far too important to delegate to anyone else. It is highly recommended you research and seek information and counsel from as wide a variety of sources as possible, so you can make well informed educated decisions about you, your child's, or your pet's health, as in the end YOU make the decisions.
The information on this Web site is designed for educational purposes only. It is not intended to be a substitute for informed medical advice or care. You should not use this information to diagnose or treat any health problems or illnesses without consulting your vet, pediatrician or family doctor. Please consult a physician or veterinarian with any questions or concerns you might have regarding your, your child's, or your pet's health condition.
The Dietary Supplement Health & Education Act (DSHEA) of 1994 requires us to state: "These statements have not been evaluated by the Food and Drug Administration. These products are not intended to diagnose, treat, cure, or prevent any disease."
Food Grade Diatomaceous Earth is not EPA registered to be used as a pesticide. We cannot ship Food Grade DE to Texas. Any shipments made to California are made with the understanding that it will not be used as a pesticide.
Amber Technology's Herbal Nutraceuticals for Pets Products are not registered with the state of Texas; therefore, we cannot ship these products to Texas.
CLICK HERE TO SEE OUR FULL DISCLAIMER
---
Visit our new mobile friendly site Wolf Creek Ranch Organics
All Information and Photos © Copyright 2001 to Present, and may not be used without express written permission from Wolf Creek Ranch.
All Rights Reserved