Home of Whispering Winds Wholistic Animal Sanctuary
Phone: (951) 674-0921 / Fax (951) 674-9998
WOLF CREEK RANCH
FAMILY PHOTOS
Tayah is our 16 year old malamute cross. He runs free on the ranch and takes care of the cats, chickens, ducks, geese, and humans. He is our fabulous guardian.
Tayah Relaxing - When he's not laying around on the trampoline or posing for pictures, Tayah prefers to learn new tricks, help me work on the property, and loves going bye-bye.
Jennifer and Tayah - Jennifer loves all animals. She also wants to be a model/actress. Not sure who the biggest ham is, Jenna or Tayah!
Sir Rio playing in the stream.
Lady Mariah eating Couch - This was her first and only couch she ate. Come to think of it, Tayah and Shamayah ate one too! That was before we discovered puppies don't chew up the house if they're eating species appropriate nutrition - raw meat and bones!
Lady Mariah's Face - We got Lady Mariah at 3 weeks of age. She is my nurturer, humorous clown, and love.
Mariah Howling - The howling around here is one of the biggest soul nurturers. Often, at bedtime, they start howling and we join them as our night time ritual.
Nik - This is Nikko 1 year before she came to live with us. Here she's on a heavy chain/leash. Her previous owner is a professional animal trainer. He taught her to stay inside a 2' high electric fence. She looks much different today. Keep clicking the photo button and see if you can recognize her.
Click Here For More Photos!
This site is dedicated to all animals and their guardians. Whether you are here to find information and links to research holistic methods or just browsing, please feel free to linger as long as you wish.
There are many links here for you to research and gather information. We appreciate being notified about any holistic links you feel should be added to our site. It is our goal to provide as much holistic information to you, ourselves, and others. Thank YOU!
---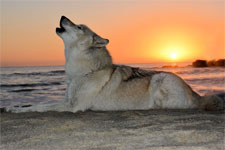 Give Us A Howl!
Please Click Here To Leave Us Your Testimonials, Reviews Or Website Feedback. Thank You!
---

CLICK HERE TO SEE ALL WHOLISTIC PRODUCTS
---
Please use our drop down menus below OR scroll down for a listing of natural products and natural health information.


PRODUCT, SERVICE & INFORMATION DISCLAIMER
The information on this web site is not intended as a substitute for the advice of a physician or vet. This information is not intended as a substitute for the reader's independent judgment and personal responsibility. Health issues are far too important to delegate to anyone else. It is highly recommended you research and seek information and counsel from as wide a variety of sources as possible, so you can make well informed educated decisions about you, your child's, or your pet's health, as in the end YOU make the decisions.
The information on this Web site is designed for educational purposes only. It is not intended to be a substitute for informed medical advice or care. You should not use this information to diagnose or treat any health problems or illnesses without consulting your vet, pediatrician or family doctor. Please consult a physician or veterinarian with any questions or concerns you might have regarding your, your child's, or your pet's health condition.
The Dietary Supplement Health & Education Act (DSHEA) of 1994 requires us to state: "These statements have not been evaluated by the Food and Drug Administration. These products are not intended to diagnose, treat, cure, or prevent any disease."
Food Grade Diatomaceous Earth is not EPA registered to be used as a pesticide. We cannot ship Food Grade DE to Texas. Any shipments made to California are made with the understanding that it will not be used as a pesticide.
Amber Technology's Herbal Nutraceuticals for Pets Products are not registered with the state of Texas; therefore, we cannot ship these products to Texas.
CLICK HERE TO SEE OUR FULL DISCLAIMER
---
Visit our new mobile friendly site Wolf Creek Ranch Organics
All Information and Photos © Copyright 2001 to Present, and may not be used without express written permission from Wolf Creek Ranch.
All Rights Reserved