Home of Whispering Winds Wholistic Animal Sanctuary
Phone: (951) 674-0921 / Fax (951) 674-9998
KIDNEY REJUVENATOR
We have moved. In a few seconds you will be taken to our new website. If it does not redirect in 5 seconds, please click Wolf Creek Ranch Organics here. Please bookmark remember to update your bookmark.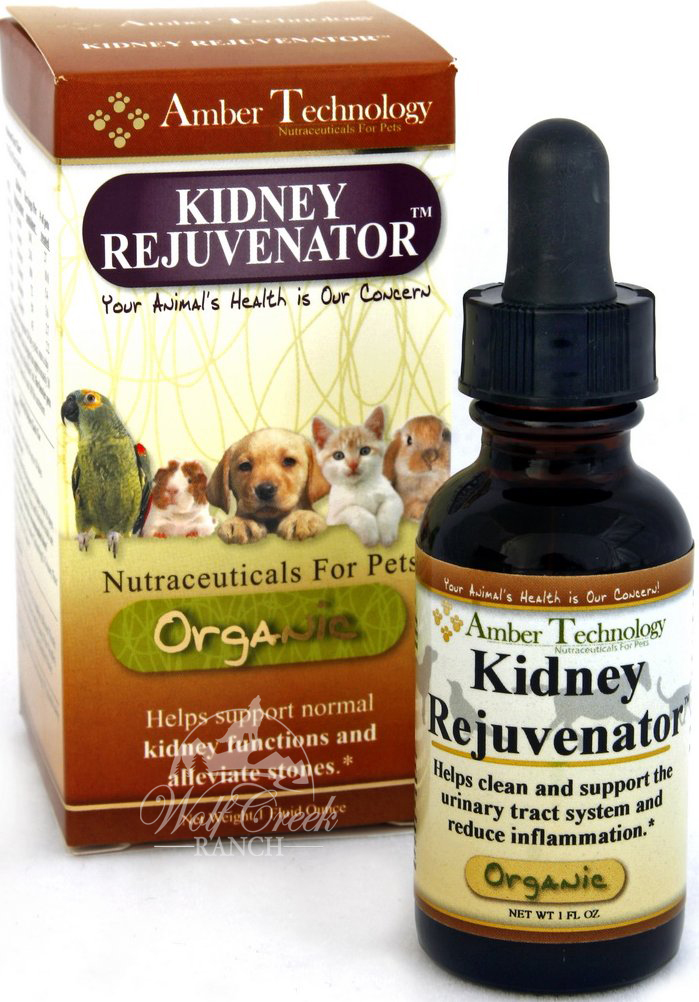 Kidney Rejuvenator ~ helps rid toxins out of the blood, cleanse the urinary tract system, promote proper kidney function and reduces inflammation. Kidney Rejuvenator is designed to help your dog, cat, rabbit, raccoon, horse, ferret, and other pet's overall urinary tract system function better allowing the kidneys to filter out the harmful toxins that may be causing your pet to develop diseases or show signs of age at early onset. Kidney Rejuvenator may help your pet feel better and look healthier.
Many times our kidneys can get overloaded with what vets call kidney stones, which are very painful. Kidney Rejuvenator can help get rid of those painful stones. If used as a maintenance, Kidney Rejuvenator can keep kidney stones from coming back.
Bacteria can also be a cause of kidney malfunction. Amber Tech has put together Kidney Rejuvenator and Urinary Tract Relief to give your pet the ultimate kidney support. It may not be enough to give kidney enhancers, especially if there is a bacterial infection (often kidney malfunction is related to bacteria). The Urinary Tract Relief may help rid the bacteria from the urinary tract system, including the kidneys.
Kidneys are amazing organs. They filter out waste in our blood and send it into our urinary tract system in a way our body can tolerate so we do not get sick from the chemicals. When the kidneys do not function as they should, the body does not release the toxins and will build up a deadly amount of body waste, which can eventually be extremely detrimental to our or our pet's health and well being.
Your pet's body knows how to heal. It just needs the right ingredients to do so.
Helpful Tips for Better Recovery:
Give your pet distilled drinking water. This will help keep unnecessary toxins out of your pet's diet.
Give plant based vitamins and minerals like organic kelp. This will give your pet the nutrients it needs to help recover more quickly.
EXERCISE will stimulate the circulation.
Toxins that can affect your pet's kidneys:
Chemicals and preservatives in the diet
Drinking water which has been treated with chlorine and fluoride
Vaccinations
Flea collars and preventatives
Second hand cigarette smoke
Pollution in the environment
Wormers
PLEASE NOTE: IF your pet was affected by any Pet Food Recalls, please view our Pet Food Recall Recommended Protocol. Hopefully your pet has NOT been affected by this, but if he or she has, please view our protocol information to assist your pet in recovering from the poisoning, kidney failure, and poor liver health.
What do the kidneys do? The kidneys are organs which maintain the balance of certain chemicals in your dog, cat, or other animal's blood while filtering out the body's wastes as urine. The kidneys also help regulate blood pressure, help regulate the production of calcium and phosphorus metabolism, and produce a hormone that stimulates red-blood-cell production called erythropoiten.
There are tens of thousands of microscopic funnel shaped tubes in the kidneys called nephrons. These tiny structures are responsible for filtering and reabsorbing the fluids that balance the body. These nephrons are susceptible to damage due to many causes such as poisons, aging, infection, trauma, cancer, auto-immune diseases, and genetic predisposition. If any of these occur the entire nephron stops functioning. Fortunately, due to both the reserve capacity of the kidney and the ability of the nephrons to grow larger, the kidney can still function. If damage to nephrons occurs gradually and the surviving nephrons have enough time to hypertrophy, a kidney can continue to function with as few as 25 percent of its original nephrons.
When the number of functioning nephrons drops below 25 percent or when damage occurs too suddenly for the remaining nephrons to compensate, kidney failure occurs. There are two types of kidney failure. Acute kidney failure is a sudden loss of function that is sometimes but not always reversible. Chronic kidney failure is an irreversible loss of function that occurs gradually over months or years.
Failing kidneys can't adequately clear the blood of certain toxins. These include urea (a nitrogen-containing byproduct of protein metabolism) and creatinine (a chemical byproduct of muscle exertion). As a result, when the kidneys fail, there is an abnormally high level of these wastes products. Other blood components normally regulated by the kidneys - such as phosphorus, calcium, sodium, potassium, and chloride - may also rise or fall abnormally. Failing kidneys may also produce extremely dilute urine or urine that contains too much protein. Healthy kidneys produce concentrated urine that is relatively protein-free.
Acute kidney failure occurs so suddenly surviving nephrons don't have time to compensate. This abrupt failure can occur if the kidney is damaged by an infection, or harmful substances such as antifreeze and rat poison; or certain medications, including some antibiotics and chemotherapy drugs.
Many cases of bacterial kidney diseases can be successfully treated. Leptospira is one bacterium that can cause acute renal failure. Other bacteria can also cause kidney infections, invading the urinary tract, the bladder or prostate for example, and ascending up to the kidneys.
Ingesting as little as a teaspoon of ethyleneglycol-based antifreeze, which forms crystals inside the dog's nephrons and shuts down kidney function is usually fatal. Unfortunately, this product has a sweet taste which attracts pets to drink it. (Propylene-glycol-based antifreeze is a safer way to protect your car and your dog.) Another potentially lethal substance is rat poison. If a dog eats rat poison containing calciferol (a form of vitamin D) the calciferol pushes up the dog's calcium level, causing mineral deposits, inflammation, and other damage within the kidneys.
Ironically, treatments for some non kidney diseases can jeopardize the kidneys. Although most antibiotics cause no harm to the kidneys, practitioners should closely monitor patients on certain antibiotics - gentamicin, for example - because of potential damage to nephrons. Cisplatin (an anticancer drug) and amphotericin B (a drug for serious fungal infections) can also cause acute kidney damage. In general, before you decide on a course of treatment for any condition, ask your veterinarian about the benefits and risks of all available options.
Nobody can survive without the function of the kidneys. People as well as beloved pets and animals should cleanse their kidneys at least twice/year.
Kidney Rejuvenator is an all natural herbal remedy that contains human grade quality herbs.
Active Ingredients per ml of Kidney Rejuvenator
"Proprietary Blend of (Lemon 1,3, Pine Needles 2,3, Uva Ursi Leaf 1,3,4, Yarrow 1,3, White Willow Bark 1,3) 102 mg"
Goldenseal Root 1, 3
6 mg
Mullein Leaf 1, 3, 4
5 mg
Blessed Thistle 1, 3, 4
4 mg
Parsley Leaf 1, 3, 4
4 mg
Cloves 1, 3, 4
3 mg
Hyssop 1, 3, 4
2 mg
Rosemary Leaf 1, 3, 4
2 mg
Inactive Ingredients
Filtered Water, Grain Alcohol 1,3 USP 21% by volume.
1-Organic 2-Wildcrafted 3-Non-GMO 4-Kosher
KIDNEY REJUVENATOR
RECOMMENDED USE
Animal Weight
Drops
ml/cc
# of Servings
per 1oz. Bottle
under 3 lbs.
2
0.06 ml/cc
493
3 to 11 lbs.
5
0.15 ml/cc
197
10 to 25 lbs.
10
0.30 ml/cc
99
26 to 80 lbs.
13
0.40 ml/cc
74
81 to 150 lbs.
15
0.45 ml/cc
66
151 to 250 lbs.
20
0.60 ml/cc
49
**Suggested Use for larger animals such as horses, elephants, giraffes, etc.: For pets over 251 lbs, add 5 drops for every additional 100 lbs of body weight.
Note: Each above dose is less than 1ml.
Directions for Use: Shake product well before use. Do not exceed the recommended dose!
FOR CANINES & FELINES
General: give 1-2 times daily for 7-10 days.
Long Term: for ultimate kidney health give 2 times daily until no longer needed, then 1 time daily for 2 weeks. For additional support we recommend Life Cell Support and UTR.
FOR BIRDS, RABBITS & GUINEA PIGS
Add 20 drops to every 8 oz of water.
---
For use treating kidney stones: Use in conjunction with Amber Tech's Urinary Tract Relief for best results, to help prevent infection. Check with your Veterinarian if blood is found in the urine to rule out serious situations.
If your pet has been affected by a recalled pet food, please read our Pet Food Recall Protocol
Suggested Use for Renal Failure (Kidney Failure): Kidney failure means the kidneys are toxic and not functioning properly. Kidney Rejuvenator is excellent to cleanse the kidneys and bladder, which helps lessen renal failure symptoms and in many cases it can get animals or people out of renal failure. It is best to use in conjunction with Urinary Tract Relief which is a better antibiotic than traditional antibiotics and Life Cell Support. BOTH Kidney Rejuvenator AND Life Cell Support come together in the Internal Gold Detox Kit.
For long-term use: After each 10 day treatment, take your pet off Kidney Rejuevantor for 10 days then repeat another 10 day cycle. Urinary Tract Relief can be used during the 10 day cycle that the Kidney Rejuvenator. Kidney Rejuvenator dosage can be increased to a maximum of 3 times/day for 30 day cycles, giving 5 day breaks in between each 30 day cycle. Kidney Rejuvenator is effective to help lower BUN levels.
Using the Internal Gold Detox Kit along with Amber Technology's Urinary Tract Relief may help your pet if experiencing renal failure. Due to the failing kidneys, the Life Cell Support in the Detox Kit will stimulate the liver in order for the correct toxins to exit the body on its own. The Kidney Rejuvenator and Urinary Tract Relief will bathe and cleanse the kidneys breaking up any stones or crystals and fighting off infection.
The liver and kidneys are brother and sister to each other. The father organ of the two is the heart. The best round of therapy if one is going to help an animal in renal failure is to work on all three organs. Hawthorn & Dandelion (purchased separately) will support and keep the heart healthy. So ridding the body of toxins by stimulating the liver, cleansing and purifying the blood, bathing and stimulating the kidneys, keeping the heart strong and healthy may help your pet become more comfortable.
Be sure your pet has plenty of distilled water to drink. (NOTE: Even with all the successes, Amber Technology cannot put a guarantee on such a condition).
Blood tests don't tell us the kidneys or liver are damaged until they are at least 70 to 80% damaged - this is true for BOTH people and animal testing. Consequently, this is why the liver should be cleansed when treating for renal failure, as the liver will be affected just as the kidneys are.
For use with HWF (formerly HeartWorm Free) Give Kidney Rejuvenator once/day for 30 day cycles, giving a 5 day break between each 30 day cycle for dogs who exhibit no heartworm symptoms. IF your dog is exhibiting symptoms of heartworm (scruffy coat, cough, poor appetite, exercise intolerance, or tests high positive for heartworm) give Kidney Rejuvenator 2 to 3 times/day for 30 day cycles, giving a 5 day break in between each 30 day cycle throughout the entire HWF treatment Kidney Rejuvenator will help cleanse the kidneys, so your dog can eliminate the dead microfilaria more quickly, helping your dog to recover from HeartWorm more quickly and easily.
Caution: Safe use in pregnant animals or animals intended for breeding has not been proven. If animal's condition worsens or does not improve, stop product administration and consult your veterinarian. An examination from a veterinarian is recommended prior to using this product.
Warning: For animal use only. Keep out of reach of children and other animals. In case of accidental overdose, contact a health professional immediately.
Kidney Rejuvenator Should Not Be Used With These Amber Technology Products:
Derma Nerv
Radox
TempaNerv
TYD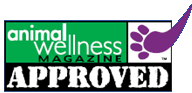 Please temporarily disable your browser's pop-up blocker or you won't be able to order. The shopping cart uses a pop up window to display your purchase. IF you are ordering multiple small items, our shipping calculator may overcharge you for shipping. IF this occurs, we will refund the excess shipping charges when processing your order. If desired, you can call us (951) 674-0921 to inquire about the cost to ship multiple items.
***For security of payment information and ship to address integrity we highly recommend ordering from the website***
**Please note U.S. Orders can take 3-9 business days (depending on shipping option; unless otherwise noted, these shipping times and rates apply to United States orders only. Orders shipping to addresses outside the US using the USPS Priority Mail button will ship First Class International and can take up to 30 days to receive. The USPS Express shipping option will take approximately 5 business days via USPS Express Mail International to receive in countries outside the US and are not "guaranteed".**
International Buyers - Please Note:
Import duties, taxes, and charges are not included in the item price or shipping cost. These charges are the buyer's responsibility. Please check with your country's customs office to determine what these additional costs will be prior to buying.
BUY KIDNEY REJUVENATOR ONLINE HERE
KIDNEY REJUVENATOR ~ Natural herbal remedy helps cleanse and detox your pet's kidneys, bladder, and urinary tract. Kidney Rejuvenator helps detox toxins and waste, such as those from: vaccinations, antibiotics, pollution, chemical wormers, chlorine & fluoride in tap water, etc. We recommend cleansing your own and your pet's kidneys at least once every six months.
Dead heartworm are filtered through the kidneys and thus Kidney Rejuvenator is an excellent aid the kidneys. It helps the elimination of the dying/dead heartworm and toxins emitted from the heartworm more quickly. This will aid dogs being treated for heartworm by preventing the kidneys from clogging from the toxins released by the dying heartworm microfilaria and the heartworm themselves. It will help speed recovery time and help dogs test heartworm negative more quickly when using with a heartworm treatment plan.
If your pet or animal is affected by recurring urinary tract infections, use Kidney Rejuvenator in conjunction with Urinary Tract Relief for best results.
***FREE SHIPPING***
FIRST CLASS OPTIONS ONLY
U.S. Orders Only
First Class Mail
KIDNEY REJUVENATOR ~ (1) 1 oz. ~ $29.97 ~ First Class Mail (3-9 Business days)


KIDNEY REJUVENATOR ~ (1) 4 oz. ~ $89.97 ~ First Class Mail (3-9 Business days)

USPS Priority Shipping
KIDNEY REJUVENATOR ~ (1) 1 oz. ~ $29.97 ~ USPS Priority Mail (3-5 Business Days)


KIDNEY REJUVENATOR ~ (1) 4 oz. ~ $89.97 ~ USPS Priority Mail (3-5 Business days)

SUGGESTIONS WHEN TREATING MORE THAN ONE PET:
AMBER GLASS BOTTLES & SYRINGES ~ If you have more than one pet that you are treating, you might want to consider purchasing one or more amber glass 1/2 oz., 1 oz., or 4 oz. dropper bottles, so you can split up the tincture into a smaller bottle. That way there is less chance of product contamination.
In addition, when treating more than one pet, it may be necessary to assure sterile administration without carry over from pet to pet. This is very important when using Paxxin to treat some pups and using as a preventative for others. The best way to assure this is to use the dropper only to transfer product to an individual sterile oral syringe, using a different syringe for each pet. (This method will also reduce the chances of product contamination.) Those syringes should be sterilized after each use. Each pet should have its own syringe that is not shared with another pet.
The use of a syringe containing measured drops from the dropper will also remove the risk of the animal biting the glass dropper.
SYRINGES ~ these are luer slip syringes without needles that are excellent for administering measured amounts of Parvaid, CS, tinctures, etc. Reinforced tip, large finger grips, smooth draw and easy-to-read graduations. Rubber plunger with double contact for a positive seal and effortless injection. FDA approved and autoclavable.
If purchasing for use with Paxxin (aka Parvaid), syringe size needed is based on the weight of the puppy. We suggest two syringes, one for oral doses and one for enema doses (if not being given Sub Q fluids or on IV's, enemas are or may be necessary to prevent dehydration). Make sure to mark the enema syringe clearly, as you never want to accidentally use an enema syringe for an oral dose, even after it's been washed, as you can reinfect a puppy with parvo.
Puppies/kittens weighing under 3 pounds need 5 to 6 ml syringes. Animals weighing 3-10 pounds need 12 ml syringes. Puppies weighing 11-20 pounds need 20 ml syringes. Puppies weighing 21-40 pounds need 50 ml syringes. Puppies 41-50 pounds need 60 ml syringes.
SYRINGE ~ 5 ml ~ $.85


SYRINGE ~ 6 ml ~ $1.00


SYRINGE ~ 12 ml ~ $1.75


SYRINGE ~ 20 ml ~ $2.50


SYRINGE ~ 60 ml ~ $3.25

AMBER GLASS BOTTLES ~ These are terrific for storing dried herbs, tinctures, colloidal silver, etc. All are boston rounds and have black plastic phenolic lids, unless noted. The misters are fabulous and deliver a very light and delicate mist. Excellent for misting the face or for animals who are shy of sprayers. The cute little 1/2 oz. droppers are perfect for splitting 1 oz. tincture bottles into two separate bottles.
To see photos of the Amber Glass bottles click here.
AMBER ~ 1/2 oz. w/Dropper ~ $2.50


AMBER ~ 1 oz. w/Dropper ~ $3.50


AMBER ~ 4 oz. w/Dropper ~ $4.75

NOTE: You do not have to be a member of PayPal to use this FREE service.
---
*These statements have not been evaluated by Food and Drug Administration. This product is not intended to diagnose, treat, cure or prevent any disease. The information on this Web site or in emails is designed for educational purposes only. The information on this web site is not intended as a substitute for the advice of a physician or veterinarian. This information is not intended as a substitute for the reader's independent judgment and personal responsibility. Health issues are far too important to delegate to anyone else. It is highly recommended you research and seek information and counsel from as wide a variety of sources as possible, so you can make well informed educated decisions about you, your child's, or your pet's health, as in the end YOU make the decisions.
---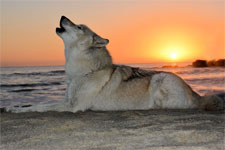 Give Us A Howl!
Please Click Here To Leave Us Your Testimonials, Reviews Or Website Feedback. Thank You!
---

CLICK HERE TO SEE ALL WHOLISTIC PRODUCTS
---
Please use our drop down menus below OR scroll down for a listing of natural products and natural health information.


PRODUCT, SERVICE & INFORMATION DISCLAIMER
The information on this web site is not intended as a substitute for the advice of a physician or vet. This information is not intended as a substitute for the reader's independent judgment and personal responsibility. Health issues are far too important to delegate to anyone else. It is highly recommended you research and seek information and counsel from as wide a variety of sources as possible, so you can make well informed educated decisions about you, your child's, or your pet's health, as in the end YOU make the decisions.
The information on this Web site is designed for educational purposes only. It is not intended to be a substitute for informed medical advice or care. You should not use this information to diagnose or treat any health problems or illnesses without consulting your vet, pediatrician or family doctor. Please consult a physician or veterinarian with any questions or concerns you might have regarding your, your child's, or your pet's health condition.
The Dietary Supplement Health & Education Act (DSHEA) of 1994 requires us to state: "These statements have not been evaluated by the Food and Drug Administration. These products are not intended to diagnose, treat, cure, or prevent any disease."
Food Grade Diatomaceous Earth is not EPA registered to be used as a pesticide. We cannot ship Food Grade DE to Texas. Any shipments made to California are made with the understanding that it will not be used as a pesticide.
Amber Technology's Herbal Nutraceuticals for Pets Products are not registered with the state of Texas; therefore, we cannot ship these products to Texas.
CLICK HERE TO SEE OUR FULL DISCLAIMER
---
Visit our new mobile friendly site Wolf Creek Ranch Organics
All Information and Photos © Copyright 2001 to Present, and may not be used without express written permission from Wolf Creek Ranch.
All Rights Reserved