FOOD GRADE DIATOMACEOUS
EARTH HUMAN & ANIMAL TESTIMONIALS



**The testimonials and reviews below are presented for informational purposes only and are not intended as an endorsement of any product. The information is not intended to be a substitute for visits to your local veterinarian. Instead, these testimonials offer the reader information and opinions written by pet owners and/or veterinarians concerning animal health and products that they have used.**
---
Ya know Julie, my gut is almost always or all ways right !!...I have felt this and I know any time I research these types of products that there will be those who defy it all...I KNOW what it is doing for me and it is working well...i am grateful for DE...thanks for taking the time to send the reply. I am a DE'er for life. The product had made a huge difference for me.
Jeff W.
******************************
Thank you so much for your quick reply! I was pretty sure it wouldn't do or cause anything more than better health. I just have a neighbor who knows everything about everything and she was so avid about DE causing collic. I take it on a daily basis and as do my sons and we provide it to every animal we have and we have NEVER had any negitive results. And since introducing it to our animals (horses, goats, chickens and dogs) we never have the need to use chemicals to worm them. Anyway...
Thanks again!
Carleen F.
******************************
Good afternoon,
I just wanted to drop you guys a line to say a big THANK YOU for all the information on your site. We have a hobby farm with some horses, cats and dogs. We have had lots of trouble with parisites in the past and have recently started using DE. Can't say enough about the stuff. The treatment for gardia for my dogs come to well over three hundred bucks and rarely works for any amount of time without soaking the entire yard with javex. This is something we hate doing and now the DE just works for everything. We have also had coccidia in the past and it looks after that as well. Now we feed DE to all our dogs and pups and never have a problem. I have used your site as a reference to my customers lately now that I have personal experience saying that it works and they also find it very helpful.
May God continue to bless you and your family as you help educate others about the goodness He has put in this earth to benifit us.
Michael & Lisa R.
******************************
Hello Julie !...this is a follow up e mail from Jeff W....I ordered DE and the Zapper...thanks so much. I love both ! I am feeling very well and I know this will only continue to increase ! I would like to order another 2 zappers for my wife and son...
Jeff W.
******************************
Hi,
I've been dealing with a bad case of faschitis, which is a very sour heel. I've been taking diatomacious daily and I think its really helping me out.
Hank T.
******************************
My rottweiler used to get intestinal worms all the time from drinking nasty water at the dog park, but thanks to your DE...worms are not an issue any longer! I am SO thankful :) I was wondering if you might have any suggestions for prevention of heartworms? Thanks again!
eBay Buyer
******************************
Dear wolf_creek_ranch,
This product is an important part of my livestock care and management program. I'm sharing this product with my friends & neighbors who have pets & livestock. I have gotten excellent results feeding it to my cattle to keep the flies down & especially keeping ants out of the cat & dog dishes. No pesticide effects. Thanks again!
eBay Buyer
******************************
We have used your suggestions on DE for ticks and worms with great results.
Jenny M.
******************************
...I'm way behind on my mail, but I give a heidi-ho thumbs up to using Food Grade Diatomaceous Earth for fleas.
A possible Feral kitten came into our lives a few weeks ago. Kitty was full of fleas and way too young, maybe 3 weeks old, to use chemicals on her. Kitten left a ton of fleas in our son's studio apartment.
We catsat for 2 weeks and I powered the entire kitten, not near her eyes, with Food Grade Diatomaceous Earth. It's very drying so I didn't want to powder her too often; I did a whole-body powdering 3 times in about 4 or 5 days. Even though I never saw evidence of worms in the kitten, I put DE in her food, anyway. I sent my son Julie's website and suggested that he buy her DE and carefully powder his entire apartment while we were catsitting and just let it sit in the carpets while he was out of town.
After a week of using DE on the kitten, I saw one on her face and hindquarters, so I dusted her again. I also put a *lot* of DE in all the litter boxes. I didn't measure; I just took a couple of handfuls and sprinkled it over the litter sand.
Now, Kitty has no fleas, and my son's carpet is flea free :o)
Marilyn B.
******************************
Hi Julie,
Thanks SOOOO much for your help!!!!!! I went ahead & started the DE that nite after I wrote you. After only 2 days of having daily dose added to their dinner only (Daddy feeds breakfast & he don't do no dosing... ), seems like stools are firmer already, & fur feels better. I feed 3-5.5oz cans to outside kitties, 1 per plate, w/5 tsp DE per plate. Also mix in some full fat yogurt, multivite, noni, & goat milk formula I make for my inside baby. Then I try to get 5 babies per plate, plus the adults (1-3 per plate). Hopefully they all get what they need.
I knew there was a reason I was hesitant to use the CS I have. After examining it & doing some research, seems my product is actually silver protein product & NOT anything helpful (Innovative Natural Products brand). There's this lab website that will test any silver solution sent to it & post results on its site. Great site! Lists the differences between colloidal, ionic, & silver protein products.
I've decided to buy some of your CS. Since you have actual experience with it's effects, I trust that. Am also going to get more DE & that kitty distempaid you recommended.
Thanks again!!!
Jan L. & kitties
******************************
Hello there!
I am happy to report that Jorgia, Tahlula and Luna Lou are all doing much better. After starting them on the Kocci Free and then increasing their DE intake, I haven't seen them even interested in the dirt in our back yard. That stuff really is great! Now I just need to figure out how to make sure that my 1 year old son is parasite free. He and the girls are very fond of sharing their toys. Any suggestions?
Thank you again for all of your help,
Tamara
******************************
Dear Julie,
Emma's test came back today and it was negative -- she's finally giardia-free! I can't thank you enough for all of your assistance. Emma has had giardia since I got her in December and it was hard to get rid of because she was eating her stool. None of the products I tried helped except the DE. Between that and the Kocci Free she was cured and I feel much better that it was done without the use of the traditional vet's medication.
Thank you, thank you and Emma thanks you!
A big hug from me and Emma (-:
Phyllis S.
******************************
I did hear back from the vet and their stool analysis is clear of worms, coccidia and giardia. YIPEE! Thanks for your help and support.
Debra
******************************
Hi,
I received the order. Thank you.
I wanted to ask you, just to be sure, if the DE supplement will rid the body of any worms that may have moved outside of the digestive track. I have read that tapeworms and hookworms can move into the bladder, kidneys, liver or even lungs.
After a 3 year stay in Costa Rica, I was concerned that we were infected. Since we began using the DE, I have discovered that the whole family, excluding the dogs because they had to have the shot for international travel papers, were infected with tape worms and whip worms at least. The DE is visibly working for that, but I thought I should double check with you believe it will remove any potential infestations that may have moved beyond the intestines.
Thank you for your time,
Barb A.
******************************
Thanks so much! I bought your food-grade D.E from ebay and it's awesome. I've been ravaged and attacked by bedbugs. I tried every toxic option and all it dead was make the infestation worse!
I was very pessimistic of the D.E. I dusted the boxspring today and within 5 minutes I saw those nasty critters crawling out in a panic as the grim reaper closely followed them all.
I read that D.E. takes a day or 2 to kill bedbugs but I saw the critters dead within an hour or two. They just walked slow and dazed as the sharp glass diatoms sliced these monsters up to oblivion.
I got my revenge on these critters and thanks so much for a great product that saved my health! No health issues, no headaches or skin burns like I got from sprays. Awesome stuff!
Vsudude
******************************
Hugs to you...and thanks.
I see what you mean about life cycle. In some ways they have to go through the intestines...How else would they deposit into the brain...But yes research would tell us.
I will do an herbal cleanse too. After I make sure the tapes are out and gone. They have been a plug. I am sure if I had had a colonoscopy that they would have said I have a tumor and cut it out and said… not cancerous.
But I have had these so long I knew they were some worm. And they have been biting on and off for 3-4 years.
Thanks and hugs.
Helene P.
******************************
Julie,
Wow I do not feel them biting anymore...the tapeworms. How fabulous.
Thanks. I cannot tell you how long I have had these. Herbal products cannot hold a candle to DE for the intestines. I am a believer.
I will never be without it.
Helene P.
******************************
Julie and Critters!
Thank you very much for the fast reply. It is much appreciated.
I mentioned I had a water retention problem; it was still very bad even after this past week, so I went ahead and took a diuretic (2 doses in 8 hours) and now my legs are not swollen. The best part is, no adverse affects when taken with DE. There's really nothing bad I can say about DE. I wish I had known about it sooner, because I have long-standing health problems that have disintegrated in only one week.
I am good friends with my family doctor, and I went to her house this morning to wish her happy birthday. She always brings her work home - so dedicated! - and she took the liberty of doing a small exam on me in the kitchen. She asked me several routine questions and remarked that she had been thinking my kidneys were about to fail and was waiting for it for several months now. After examining me, she realized my kidneys were just starting to function again. It is at once scary and a relief to hear.
The best part about DE is that I am able to see the lines of the muscles in my legs again. I am not sure how long I had worms, but I try not to think about the damage it has done in my life - I have DE now, and all of my pets and friends are going to hear about it!
Thanks again,
Donna V.
******************************
Hello,
I wanted to take a moment to drop you a note about the DE I recently purchased from you via eBay.
I currently have seven dogs and one cat and since I live very closely with them, when I spotted remnant of tapeworms, I was sure everyone had them, including me, so I started researching. Chemicals are expensive and out of my financial means, and I wasn't sure I wanted to take them myself, so, as pointed out on your website, why would I give them to my dogs?
I decided to give the D.E. a try. It's not the first time I'd heard of it, but it hadn't come to my attention for some years - which I find surprising and all of us began injesting it about two weeks ago. Since I do not follow my dogs into the woods to check their feces, I don't know what has come out for them, but for me - well, the proof was in the pot.
I was concerned as to how I would administer the DE to my dogs as they are fed primarily dry food, but I've put it on their food and they eat it with no hesitation! In addition, every morning they get a spoonful of a special cocoction of chicken, brown rice, and carrots was thoroughly cooked and mixed with two parts DE and enough broth to wet it all (1 quart rice mixture with 2 quarts DE). The dogs LOVE it! Even my cat loves it and lets me know she's ready for it in her bowl.
I intend to switch from chemical flea killers to DE as well. I know the chemical stuff stings as I've splashed it on my skin, so it always pains me to apply it to my dear critters.
Laura G.
******************************
Hi, i have been giving my Chocolate Lab DE for 2 weeks now, she is about 14 years old she has been having trouble moving around she has lost weight, and the vet told us he thought maybe some internal organs might be shutting down. My girlfriend told me about DE and how it has helped her dogs, so i thought i would give it a try. She has done a 180 let me tell you, she is even romping around like a puppy, I just cant believe it. So my question to you is and i have been looking at your site but I'm not able to find what I am looking for. I would like to see what you have for humans, in vitamins or DE in pill form???? For Humans...Can you help I'm not finding this on your site.
Thank You
Cheryl C.
******************************
Good morning -
I'm so glad I found out about food grade diatomaceous earth through your web site. Since I received my supply from you, I've been feeding it to all my feral and domestic cats. I've already noticed them passing lots of worms (not sure exactly what kind they are.)
However, I noticed that the worms are still alive when they pass. I had thought they might have died before they pass. I read elsewhere that they can still be alive. I just wanted to confirm with you that this is the case.
I would appreciate your reply. And thank you again!
Sincerely,
Joyce M.
******************************
Thanks, Julie. You have a great weekend, too! I've really found the DE to be one of the best things to feed my animals. The most noticeable difference has been in my 20-something-year-old mare. She was skinny and in pathetic condition nearly 3 years ago when I rescued her. Now people think she's young (except for her sway back.) Good stuff!
Take care,
Darlene T.
******************************
Thank you to ALL who have submitted their testimonials & photos of their wonderful furry canine friends!
Click here for Diatomaceous Earth Testimonials ~ Page 6
******************************
OUR CAUTIONS:
Do NOT get DE in the eyes. DE is a drying agent and will dry out the eyes.
IF you have asthma or some other lung ailment, either wear a mask or be very careful when using food grade diatomaceous earth.
Do NOT use heavily in carpet. Some advise too much DE causes vacuum problems.
NEVER use pool filter grade DE around animals. It can poison or kill them.
Some people experience a healing crisis (detox reaction) when beginning DE consumption. If this occurs, reduce the dose, till your body is cleansed, and then increase to the RDA.
Remember, DE will kill beneficial insects as well, so use accordingly.
Once you start worming with DE, remember to feed EVERY day. If you start one day and skip a few days, the build up of dead dying worms can create dis-ease.
For more DE benefits and information go to our DE Facts & Information page.
For more information about DE for human consumption go to our Food Grade Diatomaceous Earth Health Benefits for People page.
For more information about using DE for mites, Morgellon's Disease and other indoor/human pest issues Click Here
---
*These statements have not been evaluated by Food and Drug Administration. This product is not intended to diagnose, treat, cure or prevent any disease. The information on this Web site or in emails is designed for educational purposes only. The information on this web site is not intended as a substitute for the advice of a physician or veterinarian. This information is not intended as a substitute for the reader's independent judgment and personal responsibility. Health issues are far too important to delegate to anyone else. It is highly recommended you research and seek information and counsel from as wide a variety of sources as possible, so you can make well informed educated decisions about you, your child's, or your pet's health, as in the end YOU make the decisions.
---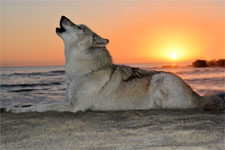 Give Us A Howl!
Please Click Here To Leave Us Your Testimonials, Reviews Or Website Feedback. Thank You!
---

CLICK HERE TO SEE ALL WHOLISTIC PRODUCTS
---
Please use our drop down menus below OR scroll down for a listing of natural products and natural health information.


PRODUCT, SERVICE & INFORMATION DISCLAIMER
The information on this web site is not intended as a substitute for the advice of a physician or vet. This information is not intended as a substitute for the reader's independent judgment and personal responsibility. Health issues are far too important to delegate to anyone else. It is highly recommended you research and seek information and counsel from as wide a variety of sources as possible, so you can make well informed educated decisions about you, your child's, or your pet's health, as in the end YOU make the decisions.
The information on this Web site is designed for educational purposes only. It is not intended to be a substitute for informed medical advice or care. You should not use this information to diagnose or treat any health problems or illnesses without consulting your vet, pediatrician or family doctor. Please consult a physician or veterinarian with any questions or concerns you might have regarding your, your child's, or your pet's health condition.
The Dietary Supplement Health & Education Act (DSHEA) of 1994 requires us to state: "These statements have not been evaluated by the Food and Drug Administration. These products are not intended to diagnose, treat, cure, or prevent any disease."
Food Grade Diatomaceous Earth is not EPA registered to be used as a pesticide. We cannot ship Food Grade DE to Texas. Any shipments made to California are made with the understanding that it will not be used as a pesticide.
Amber Technology's Herbal Nutraceuticals for Pets Products are not registered with the state of Texas; therefore, we cannot ship these products to Texas.
CLICK HERE TO SEE OUR FULL DISCLAIMER
---
Visit our new mobile friendly site Wolf Creek Ranch Organics
All Information and Photos © Copyright 2001 to Present, and may not be used without express written permission from Wolf Creek Ranch.
All Rights Reserved