FOOD GRADE DIATOMACEOUS
EARTH HUMAN & ANIMAL TESTIMONIALS



**The testimonials and reviews below are presented for informational purposes only and are not intended as an endorsement of any product. The information is not intended to be a substitute for visits to your local veterinarian. Instead, these testimonials offer the reader information and opinions written by pet owners and/or veterinarians concerning animal health and products that they have used.**
---
Hello, from Maria,
Not having seen a connection for leaving comments on your products... I had to resort to this email function. I fully respect any natural methods to enhance our pets' lives but it's not always an easy decision to experiment with holistic products since they don't have to follow any set rules to declare their product to be "the best thing for your dear pet."
I purchased your food grade DE and used it on all 12 of our cats. I was hopeful, though not convinced, that this would help with our flea problems. I am totally overwhelmed at how much this has helped. Our fluffy fur babies are all rescues and vet bills for this many can be outrageous. We put it in their food, their litter boxes and directly on their bodies. Results have been fantastic. I watched... like a hawk.. to see how much scratching was going on and fell asleep from the boredom of inactivity. I highly recommend you to anyone that holds still long enough to listen. Fifty pounds will go a long way but I will be ordering from you again. Hubby and I are very happy campers and the following recipients give a huge thank you and kitty kisses.
Sam, Sugar, Lilly, Bert, Fuji, Bitsy, Ming, Abby and her four sons.... Eeny, Meeny,Miney and Moe.
Sincere thanks from
Larry and Maria G.
******************************
DE helps with joint pain AND everything under the sun, you guys already know you're selling this stuff.
Shannon W.
******************************
Love the earth. The earth is great for intestinal issues.
Deborah J.
******************************
A satisfied repeat customer:
This product has helped firm my cats stool and reduce the smell. I mix it in with her food two times a day- love it!
Andrew M.
This helps my cats have healthy bowel movements! Thank you!
Andrew M.
******************************
Using it for 10 years on show pugs, no worms.
Judith J.
******************************
Brown spots leaving from arms and hands since taking DE. Hair healthier.
Patsy B.
******************************
Hello, I could not find where to add my contribution to share my experience with your diatomaceous earth, so I thought I would drop you a line. I had gotten a really good deal via Amazon awhile ago, from your company a 50lb bag with free shipping for just $50. I was using it sporadically and held off the fleas & ticks until autumn, when they overwhelmed us. I read every word you had written about the product including the benefits to humans and to my total amazement I have had the best outcome personally. You stated one of the components of DE - silica was crucial for bones, tendons and cartilage and that certainly proved true for me. I had two accidents in my teens that beat up my knees pretty badly and I was told in my "old" age I would have trouble with them. Sure enough 40 years later, last winter I was not as active in walking my dogs with the excessive snow and ice, that come spring time, I could only walk around like I was the tin man in the Wizard of Oz lacking well oiled joints. I had also been having frequent muscle spasms in my calves. So I gave DE a shot and now after 3 weeks of taking 1 tablespoon daily, I am ecstatic to have no more pain in my legs and I am walking straighter and at a better pace than previously. It is something I will always keep in my daily routine, so thank you.
I am still working with the flea problem, although it seems to be under better control. I have added your flea free product and for the ear mites and hot spots, I just ordered the mite oil preparation, so hopefully I will get the upper hand. Thank you again for all of the research you have done and the great natural remedies you offer.
Paulette H.
******************************
Had parasites crawling up and down my esophagus. No more crawling within 15 days of taking this product.
Debbie Oates
******************************
Great product. I used DE when my dog was pregnant, and with the litter. They were worm free and healthy when they got their vet check!
Angela Simmons
******************************
Since I have been using DE, 2 tablespoons a day in juice every morning I no longer have to use skin lotion. My skin is very healthy looking and no longer dry.
Royce N.
******************************
Hello,
I LOVE your website and buy my DE from you on ebay. I use it myself (My hair and skin are looking great and my mothers joint feel so much better) and I give it to my dogs daily. I am a breeder of Labradoodles and have 14 girls plus stud and pups. I live in humid Florida and my question is about my newborn pups. I usually worm them every 2 weeks starting at 2 weeks using Safeguard and I am out of Safeguard and other wormers, do you think the DE will work at such a young age. They don't weigh but 2 pounds, I was thinking I would use your recommended does of 1/2 to 1 teaspoon daily, actually I was going to only use 1/2 since they are so small. I thought I would mix it with some supplemental powdered puppy milk and water and give it to them using a syringe. What do you suggest? Thanks in advance!
Royce N.
******************************
By the way, I have also been adding DE to the bird bath and it is amazing how it prevents the green muck from growing. We have friends with a no kill dog shelter in Texas and they fill/clean over 300 water buckets daily. In the peak of summer they grow green muck in a day so I'm thinking the DE would serve multiple purposes if you include the reduction in flies. However, they have a very small budget and hence minimal staff. Is there an easy way to distribute the DE to individual buckets, somewhat portion controlled, that they might be able to incorporate it in their daily feeding/watering schedule?
Thanks,
Barb P.
******************************
Julie, I am your River Falls, Wi friend just e mailing you to let you know the combo of my zapping and your DE is working in a major way...I am expelling large roundworms daily. 15-20 inches long. I take the DE and the thrashing begins in the middle of the night for maybe two hours...then I feel them go quiet and die and I get some gas from the die off and maybe a little headache but fall back to sleep. Get up and zap and do my enema and the first thing that comes out is one large roundworm and smaller ones as well...this has gone on daily for maybe 10 days now...every day I am losing them. Unreal. The DE is working in a big way with the zapping now...how long can it take to eliminate a family of these things ? I am amazed...if only people knew what they carry around inside of them... Jeff W.
******************************
I just wanted to thank you so much for all the information you have on your website. It's truly been an incredible find for me.
I have 3 long-hair chihuahuas and a 5 month old pomeranian. I found evidence of worms on the potty paper yesterday morning. I just about called my vet to request some worming medicine, then thought why do I want to put chemicals in my babies when I won't even put the flea medicine on them? No way!
I did some online research and came upon your website. I found the local retailer (Animal World in Santa Rosa, CA) noted on your site and picked up two 9lb. bags of DE and started the pups on it yesterday afternoon.
It's working already! I'm thrilled that this product is so healthy and beneficial.....I, and my husband started taking it after reading about it on your site.
Thank you again for your wonderful service!
Jennifer J.
P.S. I'm sharing your website with all the pet owners I know!
******************************
Thank you Julie. I appreciate the clarification and will certainly let you know how I am doing. My boyfriend has been taking it for a couple of weeks and has noticed a real difference with his skin and, that his hair is growing faster. He had some white cracking areas beneath each knee that are starting to clear up and even get soft. I am looking forward to starting it.
Have a wonderful day.
Brenda B.
******************************
I already had some food grade DE but was unsure of the dosage level, I followed your instructions to deflea and worm my cats. It's a bad day for tapeworm here! This is only the second day of dosing them. The fleas in the carpet are dying off as well.
Thanks a bunch.
John W.
******************************
Dear Julie,
Oh, that DE is fabulous. Remember, I'm the one that chemically wormed my dog four times...Drontal, Droncit, Pyrantel, Panacur...and she was still coughing up round worms. Since using the DE she has never vomited or coughed up another worm. No longer has that loose cough.
Diane S.
******************************
I bought a bag of your DE last year after searching forever for a cure for my son's pinworms. My poor little preschooler had been suffering off and on for over a year, even through countless doctor's visits and prescriptions which the whole family had to take. I'm happy to say that after a couple of weeks of putting the DE in ALL of our chocolate milk each day, he was completely worm free. So thanks for that.
I have since used the DE to control a cricket infestation in our apartment, deter ants, spiders, and cockroaches (all of which my neighbors have had to repeatedly get pest control to spray for) and most recently to de-worm our newest additions, two orange tabby kittens. All from this single 10lb bag I purchased.
Well, I'm getting ready to purchase another bag (who wouldn't want to keep something like that on hand?) and I was reading over your site. I noticed that DE is also good for detoxing heavy metals? The reason I ask is that my 7 year old daughter is mildly autistic and there is some speculation that people with autism get more aggravated symptoms due to heavy metals. Does DE also detox heavy metals in humans? or is it just animals? I would think that since it works for the de-worming the same way, that it would work for the metals as well. Do you have any more info on it?
Thank you so much!
Beth H.
******************************
I live in central Va and with so many people having fly problems, visitors are shocked when they visit me and there are practically no flies. I simply sprinkle the DE on all the dry food I feed, the dogs do not mind it. Their coats are healthier looking, no flies on the stools. Amazing. I highly reccommend it to everyone. The price is so reasonable. Thank you.
Blessings,
Elizabeth
******************************
Dear wolf_creek_ranch,
My pets and I use DE daily as per your website info. I haven't had a sick day from work since I started DE. My pets and I owe you our health. I cannot say a large enough THANK YOU. All the best to you and yours (every critter too!) for a healthy new decade.
April C.
******************************
Last time I ordered, which was a few years ago, I had major stomach issues including abdominal swelling, pain, discomfort, gurgling noises, etc. The doctors only prescribed meds for the symptoms, which I didn't take, as I wanted to find the source of the problem instead. I googled my symptoms and many of the results suggested parasites. I then googled natural remedies for parasites, and found DE, and later this site, Wolfcreek Ranch, which I found to be the most informative source on the subject of parasites and DE. I took 1 tablespoon of DE twice daily for 90 days and my stomach issues cleared up COMPLETELY! No question as to whether or not it worked, it DID. I am now re-ordering because I feel it's something I should take everyday for the minerals alone, since I'm now over the age of 50.
Kathy P.
******************************
Thank you to ALL who have submitted their testimonials & photos of their wonderful furry canine friends!
Click here for Diatomaceous Earth Testimonials ~ Page 5
******************************
OUR CAUTIONS:
Do NOT get DE in the eyes. DE is a drying agent and will dry out the eyes.
IF you have asthma or some other lung ailment, either wear a mask or be very careful when using food grade diatomaceous earth.
Do NOT use heavily in carpet. Some advise too much DE causes vacuum problems.
NEVER use pool filter grade DE around animals. It can poison or kill them.
Some people experience a healing crisis (detox reaction) when beginning DE consumption. If this occurs, reduce the dose, till your body is cleansed, and then increase to the RDA.
Remember, DE will kill beneficial insects as well, so use accordingly.
Once you start worming with DE, remember to feed EVERY day. If you start one day and skip a few days, the build up of dead dying worms can create dis-ease.
For more DE benefits and information go to our DE Facts & Information page.
For more information about DE for human consumption go to our Food Grade Diatomaceous Earth Health Benefits for People page.
For more information about using DE for mites, Morgellon's Disease and other indoor/human pest issues Click Here
---
*These statements have not been evaluated by Food and Drug Administration. This product is not intended to diagnose, treat, cure or prevent any disease. The information on this Web site or in emails is designed for educational purposes only. The information on this web site is not intended as a substitute for the advice of a physician or veterinarian. This information is not intended as a substitute for the reader's independent judgment and personal responsibility. Health issues are far too important to delegate to anyone else. It is highly recommended you research and seek information and counsel from as wide a variety of sources as possible, so you can make well informed educated decisions about you, your child's, or your pet's health, as in the end YOU make the decisions.
---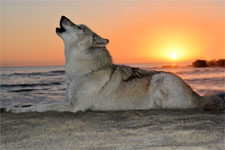 Give Us A Howl!
Please Click Here To Leave Us Your Testimonials, Reviews Or Website Feedback. Thank You!
---

CLICK HERE TO SEE ALL WHOLISTIC PRODUCTS
---
Please use our drop down menus below OR scroll down for a listing of natural products and natural health information.


PRODUCT, SERVICE & INFORMATION DISCLAIMER
The information on this web site is not intended as a substitute for the advice of a physician or vet. This information is not intended as a substitute for the reader's independent judgment and personal responsibility. Health issues are far too important to delegate to anyone else. It is highly recommended you research and seek information and counsel from as wide a variety of sources as possible, so you can make well informed educated decisions about you, your child's, or your pet's health, as in the end YOU make the decisions.
The information on this Web site is designed for educational purposes only. It is not intended to be a substitute for informed medical advice or care. You should not use this information to diagnose or treat any health problems or illnesses without consulting your vet, pediatrician or family doctor. Please consult a physician or veterinarian with any questions or concerns you might have regarding your, your child's, or your pet's health condition.
The Dietary Supplement Health & Education Act (DSHEA) of 1994 requires us to state: "These statements have not been evaluated by the Food and Drug Administration. These products are not intended to diagnose, treat, cure, or prevent any disease."
Food Grade Diatomaceous Earth is not EPA registered to be used as a pesticide. We cannot ship Food Grade DE to Texas. Any shipments made to California are made with the understanding that it will not be used as a pesticide.
Amber Technology's Herbal Nutraceuticals for Pets Products are not registered with the state of Texas; therefore, we cannot ship these products to Texas.
CLICK HERE TO SEE OUR FULL DISCLAIMER
---
Visit our new mobile friendly site Wolf Creek Ranch Organics
All Information and Photos © Copyright 2001 to Present, and may not be used without express written permission from Wolf Creek Ranch.
All Rights Reserved