FOOD GRADE DIATOMACEOUS
EARTH HUMAN & ANIMAL TESTIMONIALS



**The testimonials and reviews below are presented for informational purposes only and are not intended as an endorsement of any product. The information is not intended to be a substitute for visits to your local veterinarian. Instead, these testimonials offer the reader information and opinions written by pet owners and/or veterinarians concerning animal health and products that they have used.**
---
******************************
Repeat Customer; cured Arthritis in my shoulder and knee!!!
Todd B.
******************************
Dear wolf_creek_ranch,
After giving the DE to my 2 dogs,I noticed that they both had some mucous in their stool, would that be normal for first time,does it mean their getting the bad stuff out? Did not notice visible worms.My cocker sp. has had a cough now even being wormed for hookworms( a rescue from N. C.) I saw what pain and discomfort she was in, so instead of doing her chemically again, I thought why not DE? Sounds terrific! Her worm cough has been slowly decreasing with this added to her food once a day.Where I went wrong was not worming again after she arrived, but I thought she'd be okay, anyway,just wanted to let you know that I'm seeing some success, and will continue to use it. Anything else you can add would be greatly appreciated. Thank you, Mrs. K. S.
******************************
This place and its products saved my puppies life a year ago. She was rescued from a puppy mill and had such a severe case of hook worms that even the vets couldn't get rid of them with their medicines. Because she was so delicate I started to look for alternatives and happened upon Wolf Creek Ranch and I'm so happy I did. Between the bentonite clay, diatomaceous earth, and vibracta we were able to save her life!
Angelina H.
******************************
It's helping with energy and arthritis type pain. Wont question why,it just works for me!
Rosemary Q.
******************************
Have conquered candida myself and giardia in my rat terrier w/regular usage of diatomaceous earth.
Betty M.
******************************
Works great for keeping the flies down.
Valerie B.
******************************
Have ordered before years ago worked great on flea problem. Sister told me about DE. Do not like chemical products, I get sick from them. DE works great.
Frances L.
******************************
Product works great for treatment of internal and external parasites for my bison, horses, dogs, and myself. Many benefits for humans and animals!
Larry P.
******************************
Have been using the diatomaceous earth dust and the flea free as suggested to rid of mites also essential oils.
Matilde V.
******************************
Your DE was the only thing that cured my dog of intestinal worms.
Deborah G.
******************************
I would eventually like to sell DE. I think it cured the common cold/ flu.
Last year I was ill with the flu and the symptoms lasted for 7 weeks. I took antibiotics for as long as I could stand them. I also tried every natural ingredient that I could think of and, as I said, it took 7 weeks for me to get well. So for the months of January and February I coughed uncontrollably and had chills and fever and other flu like symptoms. Then I was well for March and April. In May, the flu started to come back. I took DE for 2 nights and the symptoms drastically diminished. I had only a slight head cold for three days.
I was able to sleep at night, sneezed a few times, and had a runny nose. But that was only for 3 days. The change was so drastic, that everyone in my family wanted to take the DE. (I originally bought the DE for the dog.) When I feel that I am getting a sinus infection, I take DE and I have the same reaction. I either do not become ill or I have a slight head cold for only a few days. If I make it through this winter without becoming ill then I will know without a doubt that the DE is a cold/flu cure. If this is true, than this could help a lot of people because the zithromycin (Z-pack) antibiotic causes the heart to go out of rhythm. My elderly mother has had heart failure twice this year from taking antibiotics. DE may be an alternative to antibiotics. As I said, if I could prove this to be true, then I would love to sell DE to help people avoid colds and flu.
Joann Y
******************************
Love that it prevents the nasty green/black algae from growing in my water troughs!!
Jennifer Sapp
******************************
Hardens my thin nails.
Patrice Jennings
******************************
Love the DE for worming my dogs and cats. DE works better than traditiona wormers from the vets and are natural and far cheaper.
Eileen O.
******************************
I bought this product about 4 months ago, and it is a miracle product and it's natural! I have allergies to toxic chemicals and this works very well!
Duane M.
******************************
Thanks for all your helpful info and products. Flea Free is awesome! And your DE has been a lifesaver over the years. Thank you!
Tiffany V.
******************************
I love natural remedies...she (friend) let me try the dia earth, the dogs wont eat now until i put it in their food.
Marie V.
******************************
Ok, well, had a very interesting morning. now, this is gross but i must be honest here. went to do my morning ritual of my enema, which was not very successful. there was no stool. i looked in the toilet before flushing to see if there was anything unusual, as i had taken the d.e. to begin my parasite/worm killing journey.
When i saw it/them, i tightened my butt cheeks and danced around like i was on hot coals. ahhhhhhhhhhh. TOM!!!!!!!!!!!!!!!!!!!!!!!!!!!!!!!!!!!!!!!!!!!!!!!
Got a flash light, yup, them there are worms. 'more than one kind' my husband said. there was this long, 6-8", round one, thinner than a pencil, that almost looked transparent. it was like you could see the inside of it with what appeared to be long streaks of dark color. kind of variegated. then tom saw a flat , whitish, one, probably a tape worm. it seemed like this was a sort of 'colony' as there were other 'long things', lots of clumpy mucous with other clumps of something. this was not stool but other stuff, different then what one normally sees.
I got this out from just 1 rounded teaspoon of the d.e. normal dose is 1 heaping Tablespoon. so, today I took the heaping Tablespoon. will see what happens tomorrow.
Included a symptom list here, although they said some people may not even show symptom. there are also some links at the bottom so you can see pics of them. After reading the info below i realize there is no way to avoid the parasites and worms. they are a part of living on this earth. so we have to just keep them from setting up 'shop' in our gut. i am now a firm believer in d.e.
Barbara
******************************
Dear Julie: I wanted to let you know that the DE has been working very well so far. It's been 3 weeks. I saw improvement within 24 hours! This is the best she has been in two years! I could go on and on about Roxy and what we have been through but that would require typing out a novel. Needless to say, her diarrhea seems to have cleared up and I am going to continue with the DE forever if necessary! :) She is such a great pony! Also, I started giving it to my 35 year old quarterhorse. I figured, what the heck. She's been feeling so good since she has been on it that she is back to laying down, rolling, getting up and rearing , bucking and flying around the paddock. Good Lord! Just like she was when she was a 3 year old! ( Meg was born in my arms 35 years ago! I know her oh so well! And very happy to see her this way again!) I have been surprised to find out that a lot of my "horse friends" knew about DE and never told me to give it a try. But they were all using it for different reasons. Now they know about the benefits it has for diarrhea. I'll be keeping my fingers crossed hoping it continues to help. I really want to start riding this pony this year! I believe I'll be back in the saddle thanks to the DE. :)
Sue W.
******************************
Great product - saved the lives of 4 stray kittens with hook worms. Use it on all my pets now.
Jamie C.
******************************
I would first like to thank you on behalf of DAWGS in Texas for turning us on to DE. I bought 200 pounds for them last month because I thought it would be a very cost effective and much healthier way for them to worm their puppies as well as control fleas/ticks/flies and the algae in the water buckets. Just last week someone dumped a female with her puppies that were covered in fleas. They immediately doused them in DE and sprinkled their pen then reapplied the DE again a few days later. They are no longer seeing fleas. They have also had mortality issues with Parvo puppies so they are excited about the results you've reported using DE to actually getting rid of all the worms and not make them sicker with chemical wormers. They are so impressed that one product can provide so many benefits.
We have an older mixed breed spayed female, Sadie, who has been with us for seven and a half years. She has really started to show her age in the last few months and has gotten very weak in her back end. I took her to the chiropractor and she didn't find anything major and the adjustment provided minimal help. We do walk her every day and that helps a little but she can't walk very far, lest we would have to carry her back. She still has puppy spurts but they last for seconds where they used to last for minutes. She has also lost a lot of her hearing and they think her larynx has calcified making it more difficult for her to breath.
We added kelp and DE to the raw diet for all of our dogs about a month and a half ago. I was hoping to see a miraculous improvement in Sadie but at least she has a nice firm stool, which is a blessing, since she tends to walk and poop at the same time without regard to whether or not she is still in the grass. My biggest concern is that she has always had such an incredible amount of bacteria in her mouth and even though I brushed her teeth, I could not keep ahead of the build up. Her breath gets horrible and her gums get so sensitive that she won't let me brush them and then she needs another dental. That is where we are now but I hate to have her put under. She has already had many of her teeth removed over the last several years because they just decay. I was wondering if spraying her teeth with Colloidal Silver would help or if any of your other products would be beneficial.
On the DE/worm front, only one of our four dogs showed any signs of worms after we started the DE and he has passed tons of them. He is only 57 pounds but I had to up his portion to 3 Tblsp because they just seemed to be never ending. They didn't look like tapeworm segments and I've never seen any sneaking out like you normally do with tapeworms. I did not have them tested to see what they were but I can't believe with the amount he passed that he didn't give any signs of feeling sick. We are finally seeing very few worms in his now and still have not seen any in the stools of the other dogs. Should we just continue to give him the higher dose or can we back him off to a normal dose for his weight once we no longer see any worms?
Thanks,
Barb P.
******************************
Thank you to ALL who have submitted their testimonials & photos of their wonderful furry canine friends!
Click here for Diatomaceous Earth Testimonials ~ Page 4
******************************
OUR CAUTIONS:
Do NOT get DE in the eyes. DE is a drying agent and will dry out the eyes.
IF you have asthma or some other lung ailment, either wear a mask or be very careful when using food grade diatomaceous earth.
Do NOT use heavily in carpet. Some advise too much DE causes vacuum problems.
NEVER use pool filter grade DE around animals. It can poison or kill them.
Some people experience a healing crisis (detox reaction) when beginning DE consumption. If this occurs, reduce the dose, till your body is cleansed, and then increase to the RDA.
Remember, DE will kill beneficial insects as well, so use accordingly.
Once you start worming with DE, remember to feed EVERY day. If you start one day and skip a few days, the build up of dead dying worms can create dis-ease.
For more DE benefits and information go to our DE Facts & Information page.
For more information about DE for human consumption go to our Food Grade Diatomaceous Earth Health Benefits for People page.
For more information about using DE for mites, Morgellon's Disease and other indoor/human pest issues Click Here
---
*These statements have not been evaluated by Food and Drug Administration. This product is not intended to diagnose, treat, cure or prevent any disease. The information on this Web site or in emails is designed for educational purposes only. The information on this web site is not intended as a substitute for the advice of a physician or veterinarian. This information is not intended as a substitute for the reader's independent judgment and personal responsibility. Health issues are far too important to delegate to anyone else. It is highly recommended you research and seek information and counsel from as wide a variety of sources as possible, so you can make well informed educated decisions about you, your child's, or your pet's health, as in the end YOU make the decisions.
---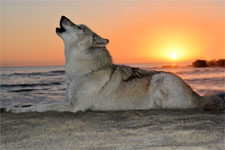 Give Us A Howl!
Please Click Here To Leave Us Your Testimonials, Reviews Or Website Feedback. Thank You!
---

CLICK HERE TO SEE ALL WHOLISTIC PRODUCTS
---
Please use our drop down menus below OR scroll down for a listing of natural products and natural health information.


PRODUCT, SERVICE & INFORMATION DISCLAIMER
The information on this web site is not intended as a substitute for the advice of a physician or vet. This information is not intended as a substitute for the reader's independent judgment and personal responsibility. Health issues are far too important to delegate to anyone else. It is highly recommended you research and seek information and counsel from as wide a variety of sources as possible, so you can make well informed educated decisions about you, your child's, or your pet's health, as in the end YOU make the decisions.
The information on this Web site is designed for educational purposes only. It is not intended to be a substitute for informed medical advice or care. You should not use this information to diagnose or treat any health problems or illnesses without consulting your vet, pediatrician or family doctor. Please consult a physician or veterinarian with any questions or concerns you might have regarding your, your child's, or your pet's health condition.
The Dietary Supplement Health & Education Act (DSHEA) of 1994 requires us to state: "These statements have not been evaluated by the Food and Drug Administration. These products are not intended to diagnose, treat, cure, or prevent any disease."
Food Grade Diatomaceous Earth is not EPA registered to be used as a pesticide. We cannot ship Food Grade DE to Texas. Any shipments made to California are made with the understanding that it will not be used as a pesticide.
Amber Technology's Herbal Nutraceuticals for Pets Products are not registered with the state of Texas; therefore, we cannot ship these products to Texas.
CLICK HERE TO SEE OUR FULL DISCLAIMER
---
Visit our new mobile friendly site Wolf Creek Ranch Organics
All Information and Photos © Copyright 2001 to Present, and may not be used without express written permission from Wolf Creek Ranch.
All Rights Reserved